#include <fastformat/exceptions.hpp>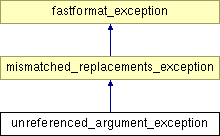 ---
Detailed Description
Exception class that represents the case where one or more arguments in the argument list are unreferenced in the format.
Note:

By default, FastFormat does not designate the presence of excess arguments as a defective statement. To cause such a designation, you need to TODO: FILL THIS OUT
Examples:
---
Member Typedef Documentation
---
Constructor & Destructor Documentation
Construction.
Constructs an exception with the given message
Parameters:

| | | |
| --- | --- | --- |
| | message | The message. May not be NULL |
| | code | The code associated with the condition |
| | numberOfReplacements | The number of replacement elements |
| | firstMismatchedReplacementIndex | The index of the first mismatched replacement element |
---
The documentation for this class was generated from the following file: